Give your aquariums an instant purification using this premium algae-control agent!
Keep your tanks and fish pond's water crystal clear with only this premium algae-control agent!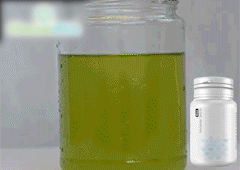 Excellent Algae Control
This powder-based repellent effectively eliminates unwanted algaes, moss and other microorganisms at a high speed.
It clumps all floating particles into a large cluster and also loosened growing algaes on walls to break it all down with no residues left.
Saving you from the problems of excessive propagation that causes filthy water and blockings through pipelines, cooling towers and such.
Additionally, this agent even controls future growth to maintain a long-lasting healthy and clean freshwater ponds.
Natural Active Ingredients
The fine agent is formulated with advanced active ingredients that naturally removes all kinds of algae.
Suitable for species, including string algae, staghorn algae, filamentous, hair algae, diatoms and more possibilities.
Preventing your aquariums, fish tanks, and ponds from getting green and cloudy.
Fish and Plant Friendly
Its formulation only contains special and 100% non-toxic compounds to ensure its safety on both freshwater and saltwater.
It can be used on aquariums or ponds with live plants, fishes, and invertebrates without harming them.
No worries as it won't also impact and dissolve the oxygen levels in the water as it cleans and controls algae growth.
Balances Ecosystem
The cleaning agent not only kills unpleasant water organisms, but it also helps to improve and balance the pond's biological needs.
Allowing it to regain a safer and normal level of oxygen to avoid a huge amount of stress to your fish.
It even blends some beneficial bacterias and enzymes in the waterbody which leads to decline of algae growth.
Easy to Use
The algae repellent can spread through the whole aquariums or ponds and reach even the hard-to-reach areas.
Simply pour a proper dosage of the powder directly to your tanks or ponds and it will automatically start to get rid of the microorganisms.
No need to get your hands wet anymore and do time-consuming manual clean-ups constantly!
Shipping Time
🔥Our current turnaround time is running 3-5 business days. Although some of the items are made ahead, due to the high volume of orders, shipping times are longer than usual. If I have the item ordered in stock I will mail it out as soon as possible!
🚀Standard shipping is $5.99 and takes about 10-15 business days after shipment. There are expedited shipping options.
😉Thank you for your patience. Please let us know if you have any questions.
Click on "ADD TO CART" to get yours now!
⚡️Stock sells fast - get yours today!