Description
Encounter at a certain moment, shining in every moment.

This stylish watch subtly stands out from the crowd. Imported and constructed with Switzerland quartz movement to ensure accurate timing.
It is easy to adjust based on wrist size to get a comfortable wearing experience. Suitable for the wrists of 3 inches to 9 inches.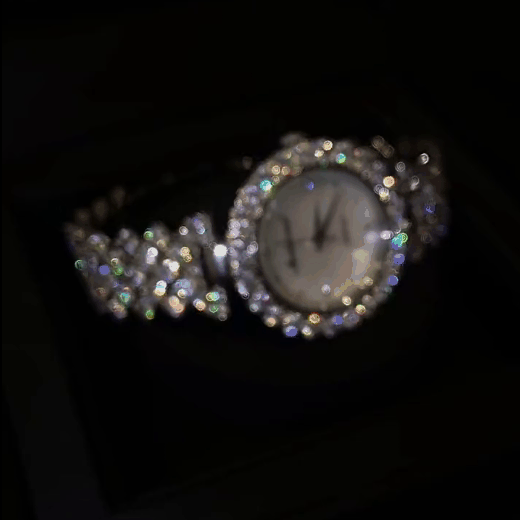 Our jewelry offers irresistible beauty and timeless style.
Details
Material
Side Stone
Stone Type : Moissanite
Number of Stones: 127
Average Carat Weight: 0.54 ct
Stone Shape: Round, Princess
Stone Color: Diamond White
Stone Size : 1.5*1.5, 2.2*2.2 mm
Information
Dial Diameter: 29mm
Dial Thickness: 8mm
Water Resistance: 3ATM
Dial Mirror Material: Mineral Reinforced Glass
Metal: Copper-gold alloy / titanium-platinum alloy.
Platinum/Gold-filled (hypoallergenic).
Platinum/Gold-filled is a pressure-bonded layer of rare metals that has 100 times more than plated jewelry. It is durable, won't chip or flake is tarnish-resistant, and is a great alternative to "karat" gold that is reasonably priced. Looks great and if taken care of should last for many years.
No tarnishing ever & no ugly marks. They will never tarnish or fade, they will never leave any black or green marks and they will never cause any allergy or redness. They are beautiful, of very high quality and also the best price on the market.
Lab-Created: Yes.
The term "lab-created" refers to synthetic gems that have the chemical and physical properties of natural gems but are manufactured in a laboratory instead of naturally formed and mined.
With the Heart & Arrow cutting effect, every diamond restores the item's natural beauty and extreme brilliance. We use four-claw inlay technology. The shiny diamond is firmly embedded in the bracelet, reducing the risk of the diamond falling.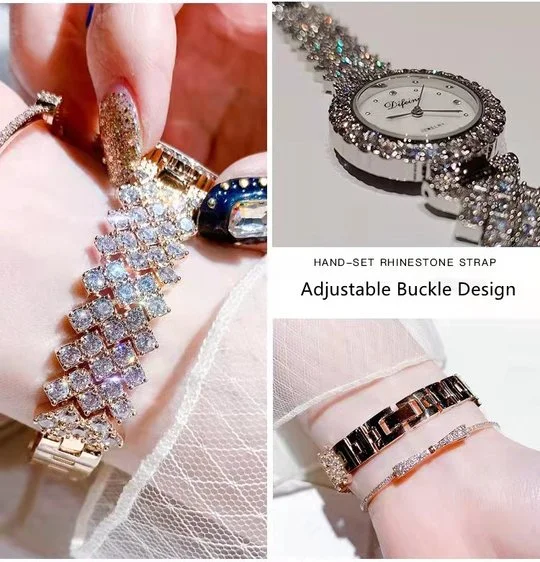 Adjust the time button, pull out a file is to adjust the calendar, pull out the second gear is to adjust the pointer, after the adjustment, all the heads are pressed in, time and calendar can be normal operation.
About Moissanite
Moissanite is not an imitation diamond! Moissanite is an alias for natural silicon carbide crystals, named after the French chemist Henri Moissant who first discovered it in 1893.

Moissanite is very similar to diamond in terms of fire, hardness, luster, refractive index, and physical properties. Its fire is 2.4 times that of a diamond, and moissanite has a higher dispersion and refractive index than a diamond, The hardness of moissanite is 9.25. It's second only to diamond and harder than any other gemstone.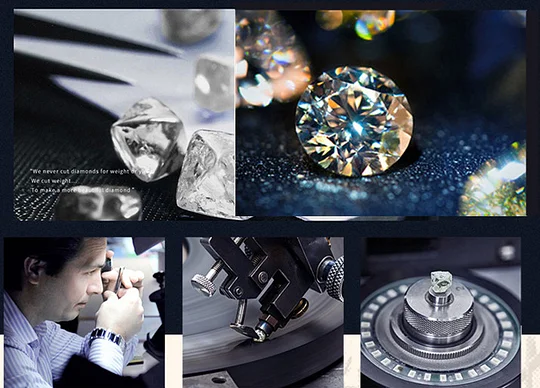 Our Secret To Shine So Brightly.
Traditional cutting standards are far from satisfying our quest for brilliance. Only when the angles follow the golden ratio will all the light shining into the diamond be fully refracted. It is because of our diligent pursuit of the cut that our moissanite has its brilliance.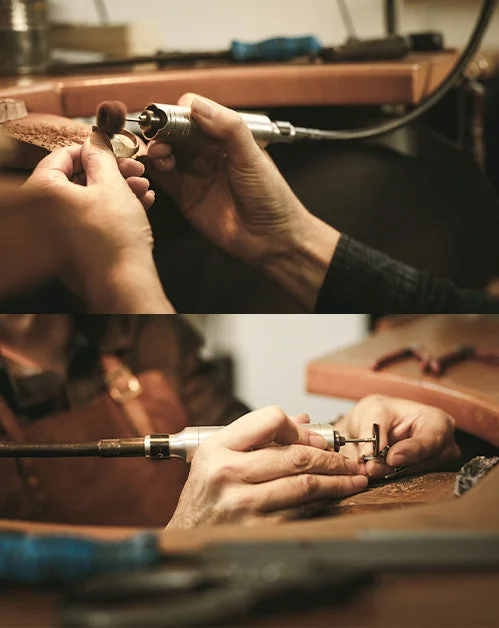 The general cut of moissanite is 57 facets, our moissanite is 105 facets. The more facets are cut, the more refractive angles, thus more fire. The more facets, the more refractive angles, the more brilliant the diamond is. The precise symmetry of the refraction angle makes the diamond's fire more brilliant.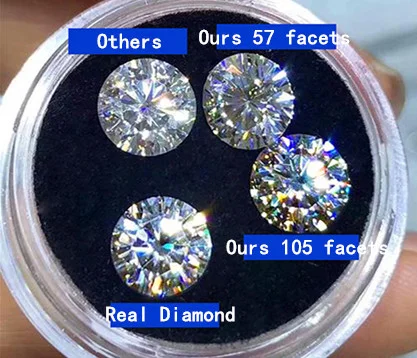 we have chosen the best US moissanite in the world, however, the differences in the fire presented by the different cuts are very significant.
35 years of experience in the Belgian diamond cutting process allows us to understand diamonds better. The pursuit and respect for sparkling light, the insistence, and efforts for a super high standard of cut that makes our brilliant moissanite diamonds.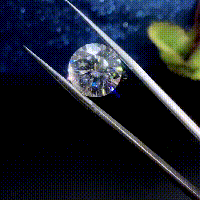 Premium quality built from the inside out.
💖Support small brand
We are a small family business. My aunt Jenny is very good at customer service because she is always nice to people. So if you have any questions, feel free to ask her at support@mail.musedesire.com. If you do have any questions you'll be talking to someone who really knows just about everything that's going on!
⚡Click the ADD TO CART button before we sell out.
Shipping Time
🔥Our current turnaround time is running about 3-5 business days due to our products are all handmade. Although some of the items are made ahead, due to the high volume of orders, shipping times are longer than usual. If I have the item ordered in stock I will mail it out as soon as possible!
🚀Standard shipping is $5.99 and takes about 10-15 business days after shipment.
😉Thank you for your patience. Please let us know if you have any questions.