Neon LED lights lining the outside and inside of the Fly Orb make it an eyecatching toy extremely fun to play with at dusk.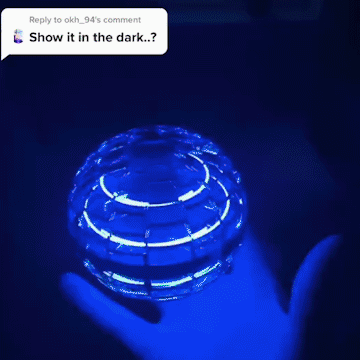 Take it with you anywhere (anytime). Small enough to fit in the palm of your hand - play with the Fly Orb whenever you feel the itch arise (whether that's in the kitchen, backyard, at the beach, or the park!).
🌟 As Seen on TikTok 🌟
It features an aerodynamic enclosed orb design allowing it to effortlessly glide through air leading to an extremely fun and addicting experience. Toss it up and watch it fly, float, glide, and climb before hovering back to your hand like magic!






"Rasengan", "The Force", "Magic" - call it whatever you want, but no matter what - you can count on the motorized Fly Orb to make its way back into your palm after every throw. Let it go and watch it fly, float, glide, and climb before elegantly returning to your hand like a boomerang! Physics in action!
Push the power button, hold the Fly Orb upright, and then shake to start. It's that simple.
TRICK GUIDE —— CAPTAIN BOOMERANG
Throw your Fly Orb into the air and watch it smoothly curve in the air to make a rendezvous with your original throwing hand. Yes, it does this.

PARTNERS GAMES
Kids can play together, get some exercise and build friendships~

SAFETY FIRST
The Fly Orb features an aerodynamic enclosed orb design that gives it that smooth flight when you're throwing it. Your hands are always 100% safe when dealing with this floaty boi.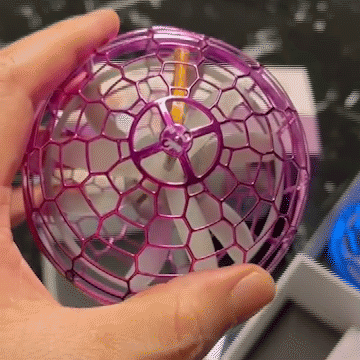 DURABLE
Durable, orb design protects the Fly Orb from trauma caused by bumps, falls, drops, and other forms of blunt impact. Keep the good times spinning.
LONG BATTERY LIFE
A 30-minute charge gives your Fly Orb 8-10 minutes of operating time.

Battery life depends on circumstances. For example, 10 minutes of continuous use in a single session or multiple 8-10 minute sessions. Additionally, factors like wind can affect power usage as well.
Specification
color: blue/red/pink
Weight: 78g
Size: 9.5cm x 9.5cm
Charging time: 25 minutes
Life time: 8-10 minutes
Battery: Built-in rechargeable lithium battery
If you have any problem during use,please contact with us,we will provide you with professional after-sales service.
Q1:How to turn on/turn off it?
A1:Keep the charging port is up,then press the power switch and swing FlyNova Pro with your wrist,and the wind blade will start to rotate.Swing FlyNova Pro again,the wind blade will stop rotating.Press the power button again,FlyNova Pro will stop working.
Q2:How to use?
A2:Please keep the charging port is up and thrown out at an angle of 30°, and the ball will fly back by itself.Please practice a few times to be proficient in the operation
Q3:Why it turns off as soon as it falls?
A3:This is normal phenomenon,the ball will stop spinning when it falls on the ground.Throw it out at an angle of about 30°. it will back by itself.
Shipping Time
🔥Our current turnaround time is running 3-5 business days. Although some of the items are made ahead, due to the high volume of orders, shipping times are longer than usual. If I have the item ordered in stock I will mail it out as soon as possible!
🚀Standard shipping is $5.99 and takes about 7-15 business days after shipment. There are expedited shipping options.
😉Thank you for your patience. Please let us know if you have any questions.