Are you still paying for expensive repairs to car scratches?
Non-toxic and easy to use, this car scratch removal pen provides professional results in just a few easy steps and it won't damage your vehicle's finish. It's portable, permanent, odorless, and water resistant and it works like MAGIC to remove scratches and small marks on any type of vehicle of any color!
Remove scratches safely and quickly from your car's finish! It's amazingly easy to apply and if you LOVE your car, than this long-lasting paint pen is a must-have item!
This pen is completely portable and specially designed to make touch-ups and repairs super easy and convenient. After thoroughly shaking your scratch repair pen, just complete these easy to follow steps and prepare to be amazed!
Use your scratch eraser in a shady area.
Spring tip of applicator on a separate surface until tip is thoroughly saturated. Note: It might take up to 40 or 50 presses to completely saturate the tip.
Use the pen to apply scratch concealer to your car.
Immediately use a dry paper towel to wipe off excess, as car scratch repair does cure quickly.
Park your car in the sun until the concealer is completely dry and cured, about 1-48 hours.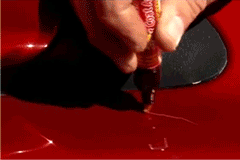 This Clear Coat Scratch Repair Filler & Sealer is virtually invisible and safe for use on any car and any paint color!
Features:
Long lasting, not easy to fade.
Excellent design for repairing car scratches.
External Testing Certification: CCC
Special Features: water resistant
Item Type: Painting Pens
Material Type: Plastic
Item Volume: 12ml
Pen Color: Yellow
Item size: 143*15(max)mm
How to use:
Shake Car Scratch Repair Pen applicator thoroughly with cap on. Apply Car Scratch Repair Pen in shaded area.
Prime the applicator on a separate surface. With tip pointed down, PRESS & RELEASE spring tip on a surface until tip is saturated.
Protect tip from sunlight! It may take 40 to 50 presses to saturate the tip.
Apply along & into damaged clear coat. Work quickly, Car Scratch Repair Pen cures in direct sunlight.
Apply at temperatures above 55 degrees (F)
Quickly wipe off excess with dry paper towel, as Car Scratch Repair Pen can cure rapidly.
Allow to cure in sunlight until dry (1-48 hours). Deeper scratches may require additional application.
Shipping Time
🔥Our current turnaround time is running 3-5 business days. Although some of the items are made ahead, due to the high volume of orders, shipping times are longer than usual. If I have the item ordered in stock I will mail it out as soon as possible!
🚀Standard shipping is $5.99 and takes about 10-15 business days after shipment.
😉Thank you for your patience. Please let us know if you have any questions.