Can't sleep or focus because of the noise of mosquitoes? Or are you constantly bitten by mosquitoes?
Mosquitoes are a thing of the past with FlyTrap!
Let the FlyTrap catch all the mosquitoes for you so you can sleep peacefully again.
Why Fly Trap?
Sleep better, no more mosquitoes in your bedroom
Stylish design so it fits perfectly in your kitchen, living room or office
Enjoy the summer in your garden without annoying insects
Safe, contains no harmful aerosols or radiation
Easy to use, plug it in and FlyTrap will do the rest
Compact & lightweight, you can easily take the FlyTrap to another room or take it while camping
Easy charging with the included USB cable wherever you are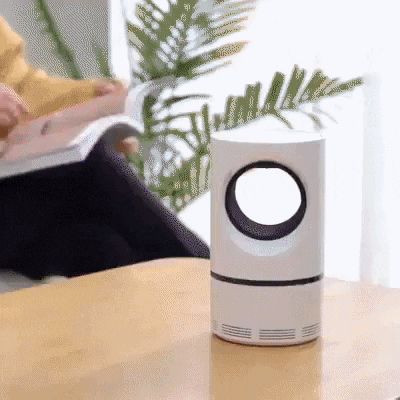 Using the latest technology, our designers have found a way to tap directly into the natural instincts of mosquitoes and catch them instantly.
There is a fan on the underside that prevents mosquitoes and flies from escaping. The movement kills any insects that are attracted.
It contains no aerosols or harmful radiation and has been scientifically tested so it is harmless to humans and pets. The waterproof design makes it easy to clean after catching those pesky mosquitoes. Buy FlyTrap today and enjoy your summer evenings and your night's rest without annoying mosquitoes.
Specifications:
Material: ABS
Color(s): White
Size: 5.31 x 5.31 x 8.66 Inch
Package contents: 1x FlyTrap (White) + USB cord
Customer Reviews
Peter D.

✓ Verified purchase

★ ★ ★ ★ ★ 4.9/5.0

''With FlyTrap we have so much less mosquitoes flying around the house! The design is really modern so it fits our interior really well. We also like the fact that you can charge it with USB so we can take it with us while camping.''

Laura M.

✓ Verified purchase


★ ★ ★ ★ ★ 4.9/5.0

''This thing works. I have the unfortunate problem of living in an area where there are a lot of mosquitos. I bought this because there is a cloud of mosquitos outside my door every morning and some of them seem to make their way inside my apartment whenever I open the door. So I really bought this trap out of desperation. I had tried pretty much every (unsuccessful) way to get rid of mosquitos that I could find online, but eventually decided to try this trap and I'm glad I did!''

Oliver S.

✓ Verified purchase


★ ★ ★ ★ ★ 4.9/5.0


''I have a problem with fruit flies as I have lots of indoor plants. I wasn't really expecting it to work well but it does. I leave it running during the night in a dark room, it works best like this with no one around . I also put a small amount of apple cider vinegar nearby which I read helps to attract them.''
Please note: The 50% discount promotion ends today!
100% Satisfaction Guarantee
✔ If for any reason you do not have a positive experience with this product, we will do everything we can to make sure you are 100% satisfied.
✔ Not satisfied with the product? Then we will give you your money back!
✔ We are available 7 days a week to solve your questions :)