The Last Deshedding Brush You Will Need! - No More Struggle to Get Mats and Undercoats Out!
The Pet Grooming Deshedding Brush is gentle on your pet's coat, yet powerful enough to remove even the most stubborn mats and undercoat.
Pets shed and it's hard to keep up with the mess
You have to spend a lot of time brushing your pet to get the mats out, and it's really tough on your hands, and it's a pain for both you and your pet.
Now you can enjoy a quicker, easier, and safer way removes mats and undercoats quickly and easily! This brush makes grooming your pet a breeze.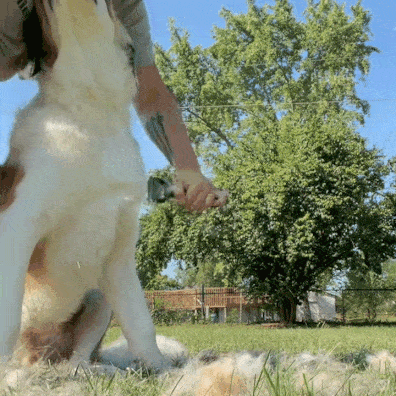 ✓

Double-sided design catches more hair with fewer brush strokes for a quick clean.
✓ The fine rounded teeth are skin-friendly and don't cut hair like other regular demating brushes.
✓

Gently removes loose hair and eliminates tangles,knots,dander and trapped dirt.
✓

Perfect for matted, heavy shedding undercoats and extra fur.
✓

Dog & Cat love every minute of it !
Perfect for Most of Furry Pet
Approved Dog Breeds: Labrador, Husky, Golden Retriever, German Shepherd, Border Collie, Poodle, Saint Bernard, Great Pyrenees, Shiba Inu, Aussiedoodle, Bearded Collie, Schnauzer, Chihuahua, Yorkie, Rottweiler, Newfoundland, Great Dane, Cairn Terrier, Pomeranian, Shih Tzu, Blue Heeler, Bloodhound, Chow Chow, Samoyed, Alaskan, Corgi, Bichon Frise
Approved Cat Breeds: Maine Coon, Ragdoll, Persian, Maine Coon, British Shorthair, Siamese, Exotic, Birman, Bengal, Himalayan, Domestic Long Hair, Norwegian Forest, Scottish Fold, Siberian
Other Pets: Rabbits, Ferrets, Horses, etc...
Note: This grooming brush may not suitable for some super short-haired dog or cat breeds like Pitbull, Bulldog, Beagle, Bloodhound, Abyssinian, American Shorthair...
LIMITED OFFER
39% OFF OUR BUNDLE
ONE PET
Deshedding & Dematting
1 Year Warranty
Secured Transaction
MORE PETS
Perfect Bundle for multiple pets
1 Year Warranty
Secured Transaction
SAVE 39% OFF BUNDLE
3×Pack+Lint remover(For free)
1 Year Warranty
Secured Transaction
Shipping Time
🔥Our current turnaround time is running 3-5 business days. Although some of the items are made ahead, due to the high volume of orders, shipping times are longer than usual. If I have the item ordered in stock I will mail it out as soon as possible!
🚀Standard shipping is $5.99 and takes about 10-15 business days after shipment.
😉Thank you for your patience. Please let us know if you have any questions.
Click on "ADD TO CART" to get yours now!
⚡️Stock sells fast - get yours today!