Eliminate All Pet Hair & Dust From All Surfaces Within Seconds
Forget about being annoyed when you can't remove pet hair or dust from your sofas or coats, our Magic Rollers will ensure that you never have to deal with hair and dust again. Trust us, your friends will be asking:
"How do you keep your clothes and sofas clean with all these pets around your home?"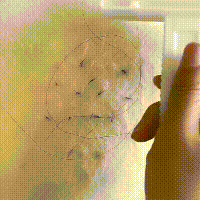 Over 20,000+ sold!
Guaranteed Satisfaction!
The Perfect Gift For Pet Owners!
EASILY WASHABLE UNDER HOT WATER

The Magic Rollers' super-strong adhesive is durable and long-lasting, allowing for optimum usage after every single wash!
P.S. In order to preserve the stickiness of the rollers we recommend you wash the rollers with soap or dishwashing liquid to remove any oils and leave the roller to dry before using it again.
Simply Rinse Under The Tap To Reuse
DURABLE & ENVIRONMENTALLY FRIENDLY
In order to reduce pollution and help with cleaning the ocean, The Magic Rollers uses bioplastic that's made from plants instead of fossil fuels. Because of that The Magic Rollers are 25% more durable than a regular plastic roller.
SPECIFICATIONS
Material: Bioplastic
Color: Blue, Green, Yellow, Pink
Weight: 12.3 Ounces
Dimensions:
Height: 6.69"
Width: 3.94"
Thickness: 2.04"
Package includes:
1x Reusable Lint Roller
Shipping Time
🔥Our current turnaround time is running 3-5 business days. Although some of the items are made ahead, due to the high volume of orders, shipping times are longer than usual. If I have the item ordered in stock I will mail it out as soon as possible!
🚀Standard shipping is $5.99 and takes about 5-10 business days after shipment. There are expedited shipping options.
😉Thank you for your patience. Please let us know if you have any questions.