With it, start to enjoy fat-free delicious soup.

Because of its new design, it is versatile and can be used as an ordinary soup spoon. It can also be used to separate the oil in the soup to make the soup more delicious.
The spoon can separate the soup from the fat, which is more convenient and quicker to separate the fat, improves the efficiency, and leaves a delicious soup.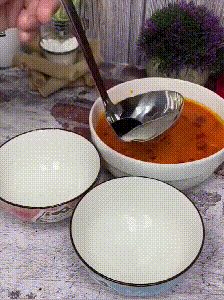 Feature:
【Multipurpose spoon design】: This stainless steel spoon can not only be used as a traditional spoon, but also can separate fat and soup residue very well. During use, the soup juice flows out from the small hole to separate the fat from the soup. Drink clear soup and eat healthier.
【304 Food grade stainless steel】:Soup ladle using high-quality 304 food grade stainless steel material, ingeniously built, skilled in craftsmanship, one-piece molding, durable, and not rusty, ergonomic handle suitable for holding.
【Separation principle】:The oil and water are incompatible, and the physical property of the oil density is lower than the water density. The fat floats above the soup, and the outlet of the small hole is below the spoon. When pouring, the clear soup flows out from the lower hole first. So as to achieve the effect of oil-water separation.
【Easy to clean】:The surface gloss process, the gloss texture is very good, and it is very easy to clean, and the dishwasher is safe. Suitable for families, restaurants, picnics, etc.
【Very long service life】:This stainless steel soup spoon is integrally formed and has a very long service life. It is a good tool for catering.
Product Description:
Item Name: Spill Spoon
Material: Stainless steel
Size: length 27.5cm, spoon width 7cm
Item Name: Soup Colander
Material:Stainless Steel
Package Included:
1pc Spill Spoon
Shipping Time
🔥Our current turnaround time is running 3-5 business days. Although some of the items are made ahead, due to the high volume of orders, shipping times are longer than usual. If I have the item ordered in stock I will mail it out as soon as possible!
🚀Standard shipping is $5.99 and takes about 10-15 business days after shipment.
😉Thank you for your patience. Please let us know if you have any questions.