Stay Warm & Cozy Wherever You Go
Puts YOU In Control Of Your Comfort, Not The Weather. Designed so you can enjoy the benefits of planning without any of the hassles!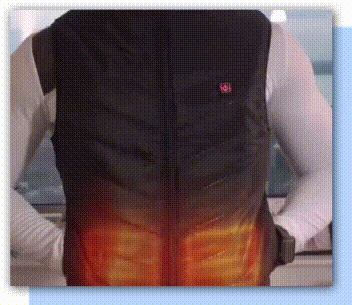 Adjust Your Temperature As The Weather Changes
Get your heated vest today and say goodbye to wearing bulky layers!
CONVENIENT. The perfect mix of comfort and function. Heats up lightning fast, and stays warm for 12+ hours with our recommended battery.
VERSATILE. A 'must-have' piece for surviving the winter. Perfect for layering with your favorite shell or wearing as a stand-alone.
LUXURIOUS. Outsmart the cold this winter! Get your vest today and experience true warmth & total convenience.
Heating zones
Two-zone heating: back and neck. This is enough for you to throw away heavy clothes and perform various daily activities lightly.
Four-zone heating: In addition to the back and neck, heating zones are added to the left and right abdominal areas. More suitable for women and the elderly.
Nine-zone heating: the ultimate in keeping out the cold! There are nine heating zones distributed on the neck, back, shoulders, waist and abdomen, which are essential for outdoor activities in winter.
This heated vest contains high-performance carbon fiber heating pads. It is safe and harmless with high heating power and stable performance. It can continuously generate heat in 5 central body areas of the left and right waist, left and right flanks, and middle back, keeping the body warm and promoting blood circulation, relieving pain and muscle tension.
USB Powered & Safe
5V USB powered, works with any portable 5V / 2.1A power supply. The portable and detachable 10000 mAh battery power supply can keep heating for 8 hours. A double-sided USB connection can be plugged into the USB socket of the power supply unit regardless of the direction. Built-in thermal protection module, so it is 100% safe to use (NOTE: The power supply is not included).
Skin-friendly & machine washable
The heated vest is made of fleece, is soft, light, quick-drying, and easy to wash. is comfortable to wear and can be washed by hand and machine (note: put in a laundry bag). Wrinkle and abrasion resistant, warm, and easy to clean. Skin-friendly materials just make you feel comfortable and happy. It's the best option to keep warm in winter.
For all occasions
Perfect for the daily commute, for people who work outside, wear under their winter jacket, or even in an office that is way too cold! Ideal gift for family members, friends, and employees to enjoy motorcycling, hiking, camping, fishing, and other outdoor activities in autumn and winter. Best gift for parents, families, and friends in the cold winter.
Specifications:
SAFE AND DURABLE: Built-in carbon fiber heating elements in this warmer vest. Low-voltage safety, and more durable.
9 HEATING ZONES:

Underneath two pockets, collar, mid-back. The heating zones is in core body areas.
Package Includes:
1 x Heated Vest
Machine washable, hand washable. Can't wring it out vigorously by hand.
Frequently Asked Questions
What size and kind of battery does it use?
Our vests use a standard USB Power Bank (18W 5A), and we recommend 10,000 mAH to get up to 12 hours of heat.
Due to international shipping restrictions (they can't go on an airplane), the power banks are not included.
How do I know what size I should order?
Please refer to our SIZING CHART. If you're in between two sizes, we recommend going with the larger size because they are manufactured based on international measurements, and run a little smaller than what you may be used to!
How many hours does it last on one charge?
Our vest will last up to 12 hours on the low heat setting, while using a 10,000 mAH external battery pack (the recommended battery). If you're using medium or high heat, and/or using a smaller power bank, it will provide heat for a shorter period of time, depending on those factors.
How do I use it? Do you have instructions?
Unzip the interior pocket and connect it the USB cable to your power bank. Hold the button down for 3 seconds to turn it On/Off. A flashing light means that it's heating up. To switch through different heat settings, click the button once. If your vest is not turning on, please make sure your battery is charged and turned on as well (there's a button on your power bank also).
Shipping Time
🔥Our current turnaround time is running about 3-5 business days. Although some of the items are made ahead, due to the high volume of orders, shipping times are longer than usual. If I have the item ordered in stock I will mail it out as soon as possible!
🚀Standard shipping is $5.99 and takes about 10-15 business days after shipment.
😉Thank you for your patience. Please let us know if you have any questions.